IDEAL PORTABLE CASE: This is a very useful and compact bag. Fits well in a Suitcase, holds plenty, and can hang in all sorts of places. IDEAL PARTITIONS: You can...
FREE
SHIPPING
100% MONEY
BACK GUARANTEE
ONLINE
SUPPORT 24/7
Availability:
100 In Stock
IDEAL PORTABLE CASE: This is a very useful and compact bag. Fits well in a Suitcase, holds plenty, and can hang in all sorts of places.

IDEAL PARTITIONS: You can design yourself internal compartments by the adjustable padded dividers.Scientific design of makeup brush bag, not afraid of the residual cosmetics on the brush

WATERPROOF MATERIAL: The Cosmetic Makeup case is made of Premium Oxford Fabric,Making it WATERPROOF, very durable and lighter to carry than other professional makeup bags.

MAKEUP BRUSH SLOT: The elastic pocket can be adapted to different sizes of makeup brushes and kept fixed. The smooth and waterproof PVC area is easy to clean, no need to worry about the color transfer of makeup residual stains.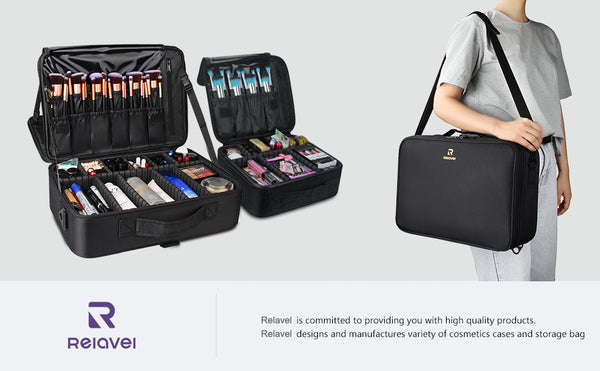 Product information
Product Dimensions:10.3 x 9 x 3.5 inches
Item Weight:1.46 pounds
About the Product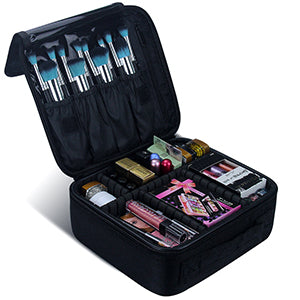 Professional Makeup Train Case
A great professional makeup case, perfect for makeup artist or beginner. Fine workmanship and high quality material.
Durable Makeup Case
Made of high quality Oxford Fabric and Lining-nylon, waterproof and shockproof.
With two-way zipper and wide handle, make it more convenient and safe to take.
Perfect Size Makeup Bag​
Size: 10.3" x 9" x 3.6" / 26cm*23cm*9cm (LxWxH). This Makeup Bag have enough space to storage your makeup, like lipstick, lip gloss, makeup brushes, eyeshadow, makeup palettes, hairbrushes, skin care products, nail polish, nail art tools and so no.
Multifunctional Makeup Case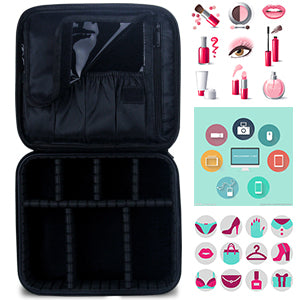 Multifunctional Makeup Case
This makeup case not only can storage your cosmetics, but also Jewelry, Electronic Accessories, Camera, Essential oil, Toiletries, Shaving Kit, Valuable objects and so on.
Keep Everything Neat and Tidy
This makeup case have several compartments and makeup brushes slots, you can keep your makeup and makeup brushes are neat and tidy.
Tips
The EVA partition in the makeup case is fixed by glue. So there could be some smell in the bag. But the smell will be removed after 2~3 days when you open it. The smell is non-toxic, please don't worry about it.
Professional Makeup Case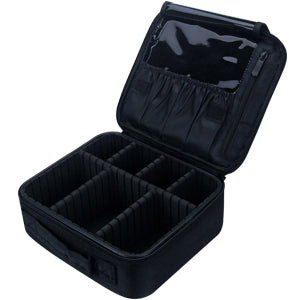 Makeup Train Case is a stylishly cute and compact makeup case to ensure the safety and organization of your cosmetics and tools.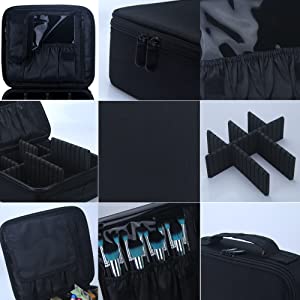 Quality Makeup Case
A cover for your makeup brushes.
Two-way zipper.
Adjustable compartments design.
Durable wide handle.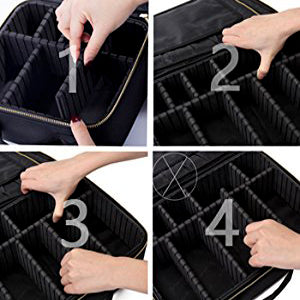 How to adjust the compartments?
-Pull out the clapboard gently along the card slot.
-Insert the clapboard along the card slot as you needed.
I JUST PLACED AN ORDER, WHEN WILL IT SHIP?
Please allow 2 – 4 business days of processing and production time for your order to ship out.
HOW LONG IS THE SHIPPING TIME?
U.S orders will be shipped via USPS & Epacket and International Orders will be shipped depending on the fulfillment center the product is from.
Average transit times to the United States: 6 – 15 Business days Average transit times to International: 7 – 30 Business days